Today, more and more people are launching online courses to share know-how. Online courses offer the opportunity to build a community and earn a significant income.
While the concept and reasoning behind building an online course are simple, the process often isn't. It's more than just uploading a video: it requires you to build out a course curriculum, develop assignments (to engage students), design the course pages, and more.
Best software for creating online courses streamline the process. These platforms offer all the tools you need to develop, launch, teach, and manage an online course—so you can focus on your content.
Trying to figure out which platform is the best for your class?
It's an exciting moment in a creator's life to make the decision to teach online. The sweet feeling of a new beginning and a significant step forward in one's personal development. Now is the time to choose a platform on which to share your classes with the world.
There is a bunch of ways to teach online. Each platform offers something different and choosing the platform for your classes can be overwhelming. We'll break down how online teaching platforms work, so you can pick the one that works best for you.
Are you a teacher with existing students? Try CreativeMindClass to offer the best learning experience for your students.
Best software for creating online courses
There are several popular online course platforms that allow individuals and organizations to create and sell their own courses. Some examples include
Thinkific, a platform that enables creators to design, market, and sell their own online courses. It has a wide range of features like course hosting, quizzes, video hosting, and email integration.
Teachable, a platform that allows creators to build and sell their own online courses, with features such as customizable landing pages, course creation tools, and student management.
Podia, an all-in-one platform that allows creators to sell digital products like online courses, webinars, and memberships.
Kajabi, a platform that makes it easy for creators to build and sell their own online courses and membership sites.
Gumroad, an e-commerce platform that allows creators, such as authors, musicians, and designers, to sell their products directly to customers. It allows users to easily sell digital products such as e-books, music, videos, and artwork, as well as physical products like t-shirts, mugs, and other merchandise.
Mighty Networks, a platform that makes it easy for creators to build and sell their own online courses and membership sites.
Platform setup and accessing student community
Starting to teach online can be an overwhelming task, from deciding on a topic your students will love and figuring out how to film and promote your class, to payments and reporting sales to the tax authorities, to running the platform community later on.
It's important that you are using an online teaching platform with all the right tools. Let's start with the setup of the platform and access to your student community.
Skillshare helps through the course creation process and allows you to set up your channel and comments. The comments are divided by class without a central overview so if you have more than one class, you face a maintenance problem. It doesn't help you build a strong community around your teaching.
At CreativeMindClass, we make sure that setting up a teaching space is easy for first-time teachers and experienced video creators alike. We help you through the content creation process with our Creative Teacher Program and we provide solutions that help build a community of like-minded people in one central place on the feed.
Student experience: The added value for your students
As a creative teacher, once your portal is ready to go, it's important to think through the platform's visual aspects - in other words, it has to be beautiful!
Also, figure out which teaching platform offers the opportunity to create the best student experience and the highest level of engagement with the lowest workload for you.
Of all the learning tools, the ability to keep the student's attention and create a personal experience is key, and not many platforms provide this option. Platforms often tend to be all-about-business and distract students with ads. CreativeMindClass is all about learning (and fun) so we offer an ad-free platform.
CreativeMindClass make it easy for students to upload their homework exercises and get feedback from their teacher as well as get notifications every time you add a new class. Joining CreativeMindClass also means creating a learning environment where each student can give feedback that helps everybody grow. This creates an optimal learning environment and doesn't overwhelm you in terms of workload.
Growing your independent business
The key to choosing a platform is to go for one that helps you grow your creative business. Every platform differs in cost transparency and payment structure.
While Skillshare promotes your classes, a significant monetization of classes on the platform is rather unique. Since it's a membership platform, you get paid royalties based on the number of minutes watched plus bonuses for the number of new students enrolled. The good thing is that you can access many students through the platform.
WordPress-based platforms allow you to teach independently, it's where their work ends. They don't take care of your taxes so at the end of the first quarter you might get an email from your accountant that the digital service you sold made it impossible to declare your income to the tax authorities.
At CreativeMindClass income depends entirely on you, you promote the class,  decide on its price, and on the date, you want to launch your next class. We make sure that the rules of how much you earn are clear and that you receive your payouts daily. Our pay-as-you-earn pricing allows you to start for free and never pay any subscription costs or set-up fees. There is no barrier for you to grow your business into a global empire. We take care of payments and invoicing your students. It's easy for you to do your taxes - and since we are invoicing your students, there is no barrier for you to sell your classes globally.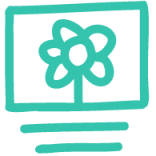 How much fun is it to teach on the platform daily?
Teaching is also about having a good time building a community of students and surrounding yourself with like-minded people. There is nothing like geeking out about your favorite topics with people who get you. CreativeMindClass offers a community feature that allows you to share your thoughts with students and get that great feeling of connection and belonging.
Do you need more details on how to create an online course? Here is a guide on how to get started on CreativeMindClass
Ready, set, teach
Whether you're passionate about teaching, want to grow your audience, or are just looking to earn an income from your courses, there's a platform to help you achieve your goals.
When picking a tool to launch your course, consider your budget, time constraints, current online following, and earning potential. If you're simply testing the waters, start with a course marketplace like Skillshare. Once you've validated your course topic and content, only then proceed to launch your own teaching platform like CreativeMindClass. Don't worry about migrating content from one platform to another. We support this for free.