How to start using CreativeMindClass
1. How to create a class
Everything starts with a class. Classes are products your audience buys and the most important building blocks of CreativeMindClass. You can start by creating one class and add more over time.
Class best practices
A class is what your audience buys on your platform so it's key to make it super clear and inviting.
In a class title , promise a value that sparkles the interest of your audience.

Add a class description specific and value-based. Why should someone buy your class? How the class will benefit them?

Set a price. The price you set is the amount your students will pay in your currency.

Add a class cover image . Present yourself and the final piece your students will work on, or show your workspace. Top it up with a layer of fun icons, drawings, or some text.

In a video trailer , show your face, some of your works, and the process. Also, include a voice-over, some licensed music. Make sure you mention exercises and that students can upload artworks and get feedback.
2. How to create your first lesson
Lessons are building blocks of a class. They contain your videos.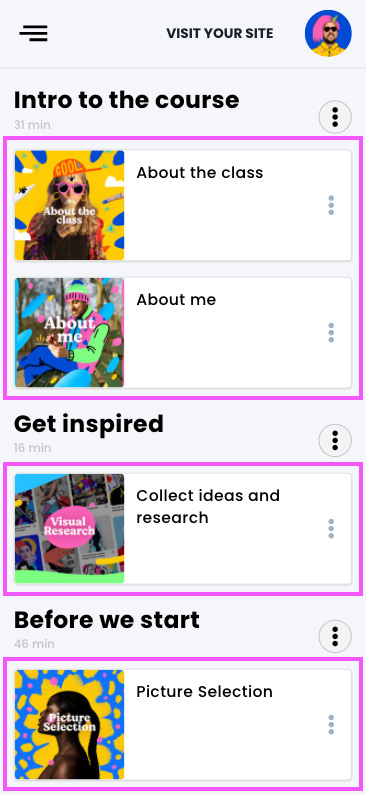 Lesson best practices
Add to a lesson relevant exercises or attachments to provide more context. You can preview your lesson at any time.
In a lesson title , be specific about the subject you are teaching.

Make a lesson description specific and let your students know whoa they can expect to learn.

A lesson cover image is a sneak peek of the lesson.

Upload video lessons of 5-15 minutes. Make it easy to follow and let your audience know in a short introduction how your lesson is structured, tell about exercises, and let them know about work upload and feedback.

Add exercises to one lesson or to multiple lessons.

Attach files with a lesson plan, hands-on exercises, sketches, inspirations, cheat sheets, or working documents like Adobe Photoshop PSDs or Illustrator AIs.
3. Organize your lessons
Group related lessons together with sections
Sections group lessons with the same topic. Use them to make learning and progress tracking easier for students.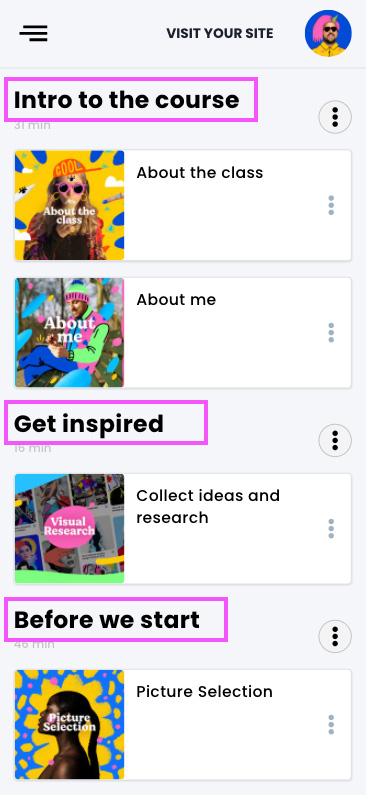 Some ideas for sections you can create in CreativeMindClass
You can add any title to your section like: Introduction, Meet your teacher, Before we start, Needed materials, Hands-on exercise, or Finishing thoughts etc.
Sort your lessons
Change the order of your lessons or move a lesson to a different section by clicking "Sort" and drag & drop.
4. Publish your class
Publish your class, lessons, and exercises whenever you are ready. You can preview them before publishing to make sure they look exactly how you want.
Draft
Drafts are visible only to you. You can save, edit and view your work and publish it whenever you're ready. Later, if you unpublish your class it won't visible to anyone, even for those who already purchased it.
Published
Published classes are visible to everyone. They're shown with their video trailers, lessons titles, lessons descriptions, time durations, as well as exercises and attachments number. Lesson videos are only visible after purchasing a class.
Purchased classes
Purchased classes appear in the student space. After payment, a student can watch the video lessons, view exercise descriptions, upload exercises, and get feedback. Also, students can download lessons attachments.
5. How to find uploaded students' works and give feedback
As your portal moves forward, and students create works based on your exercises, CreativeMindClass gives you an option to give feedback and stay on top of it.
Students' works
Students' works show the works your students uploaded below your lessons. Come back to Students' works throughout the day and see the notifications for new coming artworks.
Feedback
Feedback for Students' works is organized as a filtered "To Do" list to stay on top of your tasks. You can quickly see who needs to get feedback and go back to the archived artworks of your students.
6. Community Feed
A variety of actions create Community Feed stories, including your posts, feedback, new class announcements, and comments.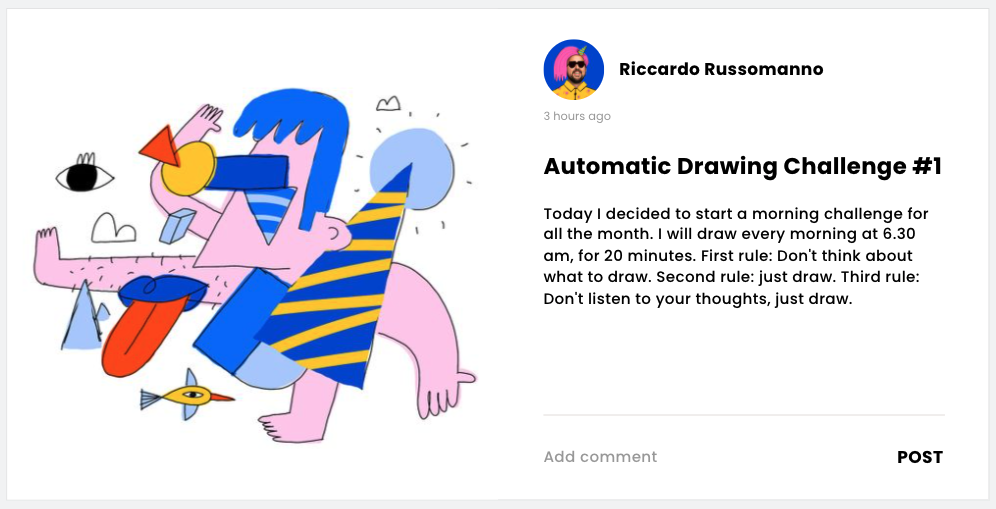 Posts
Posts are visible to everyone. This way your audience gets a feeling of learning experience and the community you're creating. You can write posts to mentor your audience, create a challenge, share news, and more.
Comments
Comment on a post to ask questions, provide extra information, or offer insight.
A post comment will appear at the bottom of the post.
Anyone who visits your portal will see the comments.
Only you and your students can comment.
7. My Homepage
My Homepage contains your page building blocks.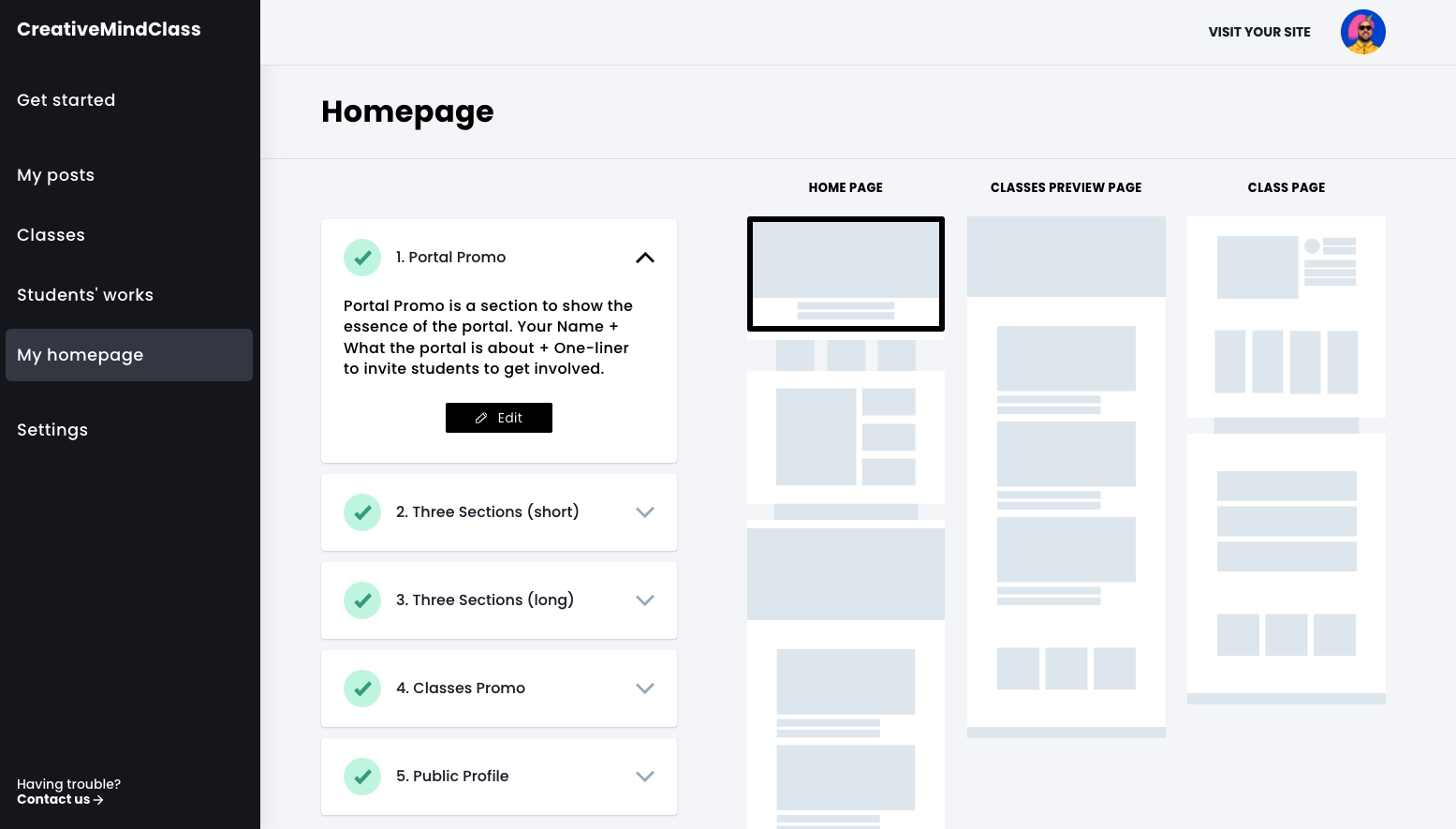 My homepage best practices
Edit My Homepage page blocks to prepare your portal for selling. Introduce yourself, invite to buy classes.
Portal Promo is a section to show the essence of the portal. It's your name, what the portal is about, and an actionable one-liner.

3 Sections (short) is a place to make an effective elevator pitch. Each with a short sentence. Tell the first-timers what they can find on your portal.

3 Sections (long) present the plan you have for your students. Tell them what they will get from your classes.

Classes promo is like your business card for your classes. Make it short and clear.

Public profile helps students recognise you straight away. A super-essence presenting you as a teacher. Tell people what you do best.
8. How is CreativeMindClass organized
Classes and lessons are the most fundamental building blocks of CreativeMindClass.
A teacher is YOU. Upload content and manage teaching space from the dashboard.

Teaching space is a homepage, classes, and the community feed.

Students are your audience, followers, fans who purchased at least one of your classes. They buy your class as a one-time purchase (not a subscription) using online payment.

Student space is a place where a student watches purchased videos, uploads lesson exercises, and downloads lesson attachments.

Classes are items that your audience buy. They contain a video trailer you can use to promote your class. You can have multiple classes on your portal.

Lessons are videos in a class. You can have multiple videos, add exercises, and attachments. Lessons are grouped with lesson sections for clarity.

Exercises & Attachments are a part of a lesson. You can add it to one lesson or to all of them. Use them to create a great learning experience. Exercises come with an easy upload button for student work.

Community Feed is like your private Instagram. Everybody can view the posts and comments but only your students are active community members.

Posts are part of a Community Feed. They're easy to manage from the dashboard.

Feedback Posts appear on the Community Feed when you comment on a student's work. You get notified whenever a student uploads work for feedback.

Teachers' comments and students' comments are appearing below posts.
More resources to help you learn CreativeMindClass
Once you master the basics, you can keep building on them, and the CreativeMindClass team will too. We have all different kinds of getting started resources so anyone can learn how they like.
Resources
Want to view some online course platform examples made with CreativeMindClass?
Want some more tips for using CreativeMindClass to the fullest?
CreativeMindClass
CreativeMindClass is an ever-growing community of creators, teachers, and students alike, who join each other on the online course platform to create, teach, learn, connect and inspire.