Create. Teach. Thrive.
Turn followers into students with online courses.
Loved by all kinds of creators - CreativeMindClass gives you freedom to
teach effectively, build a sustainable business and engage your community online,
exactly the way you want.
CREATE FREE ACCOUNT
Unified Course Platform
A platform for an online course creator
We bring together everything that is required to thrive as a creator with creating and selling online courses globally. Create online courses, workshops, mentorship, and everything in-between to the most versatile video course platform. Join our community — let's make something better together.
We help course creators teach with video courses, create exercises, give feedback, build community and much more.
We also automate promotion, landing pages, up-sells and make easy VAT for students.
A NEW ERA FOR CREATORS
Building an Online Course Platform was never that easy
Start with choosing a complete online course solution. You don't need to stitch together multiple software to give online courses and build a community or spend weeks creating a website — no coding skills required.
Compare CreativeMindClass to other platforms
A whole online course platform just for you
Our platform empowers you to have your own teaching space and
gives the tools you need to offer the best learning experience.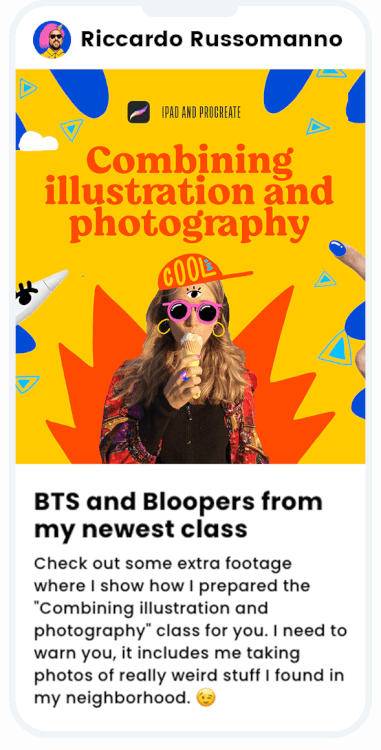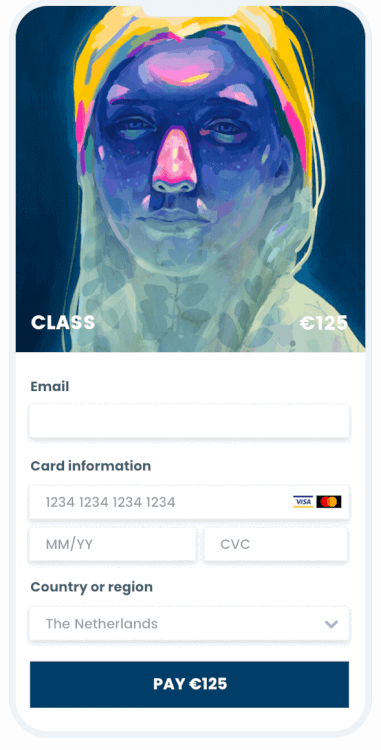 Designed to stand out
Beautiful display for courses
Our pre-built layout with big visuals makes it easy to present tasty art details. The beauty of your course doesn't get lost in ads, flashy timers or discounts.
Showcase
Learn how to get started
How to create a course
Choose a plan and start for free.

Use our pre-built layout and create your own Teaching Space.

Upload your video course and set a custom price.

Publish on your portal and promote it using Social Media.
How to give feedback
Create your video class with an exercise and start for free.

Receive students' works in your dashboard.

Give constructive feedback from any device.

Post your feedback on the class Feed for everyone to learn.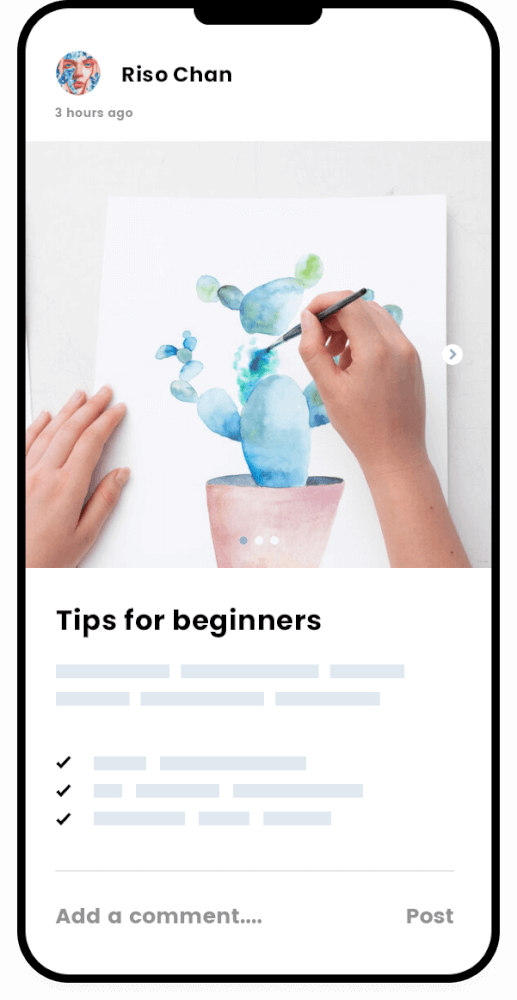 How to build a community
Create an engaging post and start for free.

Place the post on yours-only timeline.

Receive comments exclusively from your students.

Embrace your Feed as a place to learn and support each other.
Full learning experience for your students
By using our Feed, your students engage more actively, learn more effectively, and gain essential skills for expanding creativity.
Engage with exercises
CreativeMindClass comes with Lesson Exercises that make hands-on learning by doing easy to manage. You can quickly add an exercise to your lesson and view uploaded Students' Works in your dashboard.
Enhance learning with feedback
With CreativeMindClass your students get their skills boost with feedback from you and from other students. So everyone can contribute to the community's growth and gain skills.
Learn more about Exercises & Feedback
posts that inspire
Build your online course community
Add your personality to every post on Feed, designed to inspire and bring people together.
Learn more about Community
Wake up creativity
Now you can inspire on your own Feed. With mentoring, your students are becoming active students.
Share your story
Share more insights with inspiring videos, fun challenges, useful tips or simply art you're crazy about.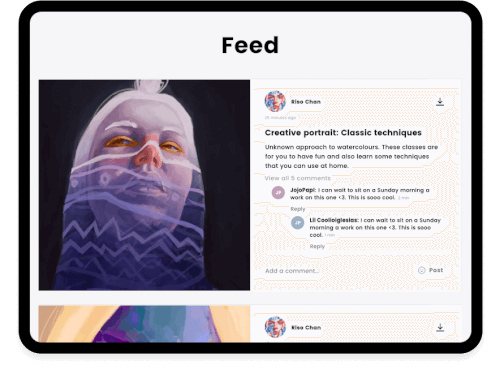 Bond with students
Geek out about your favourite topics or innovations and chat with students.
Optimised for Social Media promotion
Master the art of selling
Pave the shortest way to click the 'Buy The Class' button for your followers. Our Promo automations make it easy to match your Social Media and prepare the entire platform for a new course campaign.
Pricing
Maximise your global potential
Find the hidden path of selling and shining
Reach an audience of any size and teach in many countries in the language you love. CreativeMindClass makes international payments easy with the world's best payment processing softwares.
You're a part of something bigger.
Learn from other creators who turn their dreams into a reality.
CreativeMindClass Help
Why the Creative Mind Class platform is the best choice for you
With your increasing following, the quality and competitiveness of your offer needs to increase as well. Kickstart a professional teaching platform using CMC for free. With full technical support, top-of-the-line security and 24/7 customer care CMC is more than just a teaching platform, it is a complete online business solution.
CreativeMindClass
CreativeMindClass is an ever-growing community of creators, teachers, and students alike, who join each other on the online course platform to create, teach, learn, connect and inspire.