7 Best Thinkific Alternatives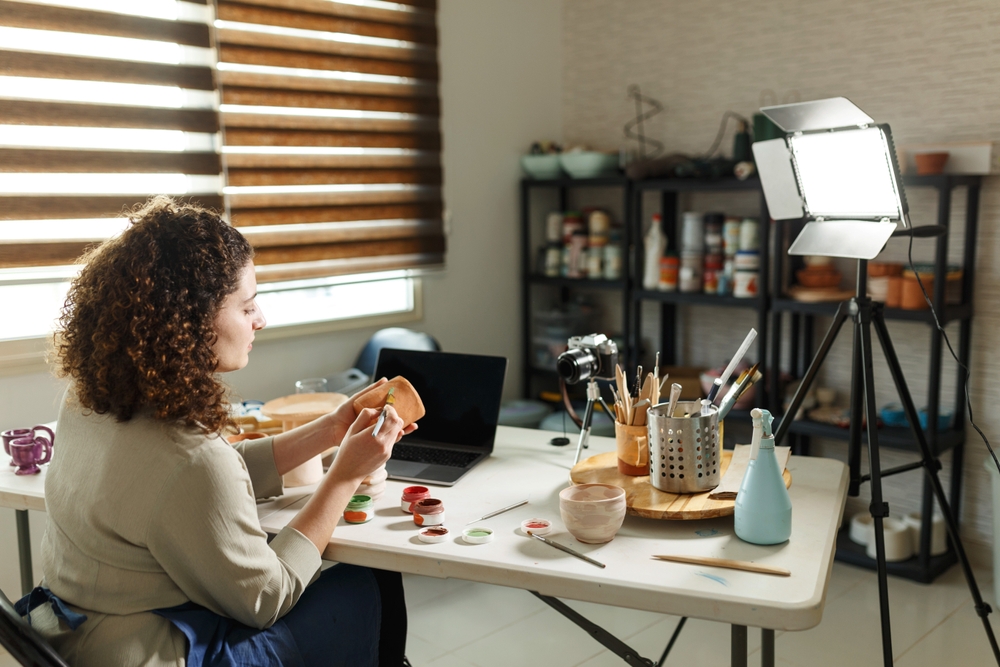 Thinkific is a software platform that provides tools for creating, marketing, and selling online courses.
It allows users to easily create and manage course content, create landing pages and sales pages, and process payments from students.
Thinkific also includes features such as email marketing integrations, student management tools, and analytics to help users measure the success of their online courses.
The platform is aimed at course creators, educators, businesses, and individuals who want to share their knowledge and skills with a larger audience.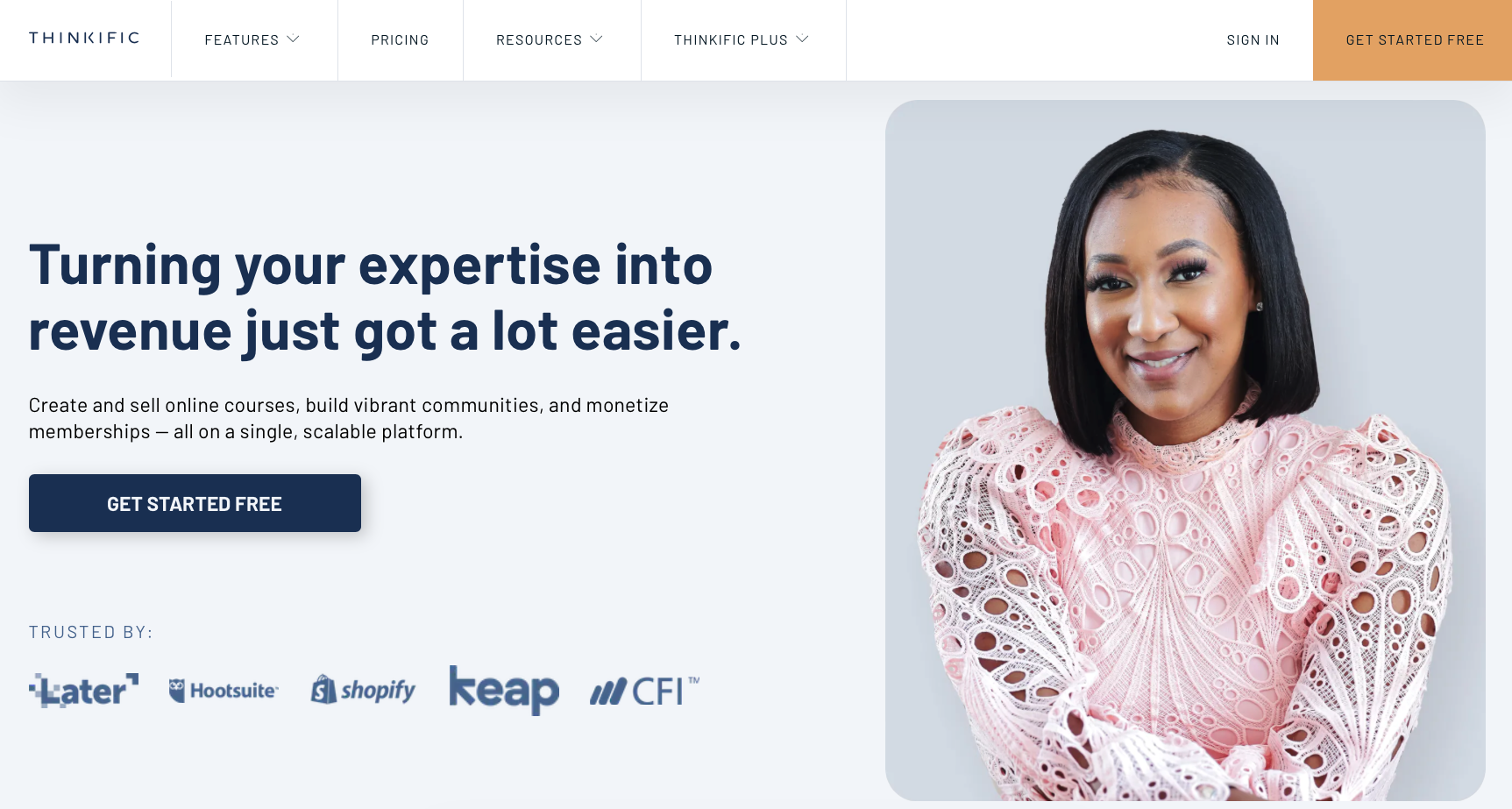 Thinkific offers several pricing plans to meet the needs of different users. A free plan includes basic course creation and hosting features, as well as the ability to accept payments and sell courses. However, it does include Thinkific branding and a transaction fee.
Thinkific cons
While Thinkific offers some customization options, it is still limited compared to other platforms, which can make it difficult to create a unique brand experience.
Thinkific may not offer the same level of product management and delivery options as other platforms, making it difficult for creators to manage large inventories.
While Thinkific does provide some sales data, it may not offer the same level of analytics and reporting as other platforms.
Thinkific is a popular platform for online courses, but it's not the only option out there. If you're looking for a platform that better fits your specific needs and requirements, you may want to explore some of the best Thinkific alternatives.
We'll highlight 7 of the top platforms for online courses, including their features, benefits, and drawbacks. Whether you're a creator looking to sell ebooks, music, software, or courses, this article will provide valuable insights and help you make an informed decision about the best platform for your business.
So, let's dive in and discover the 7 best Thinkific alternatives.
7 best alternatives to Thinkific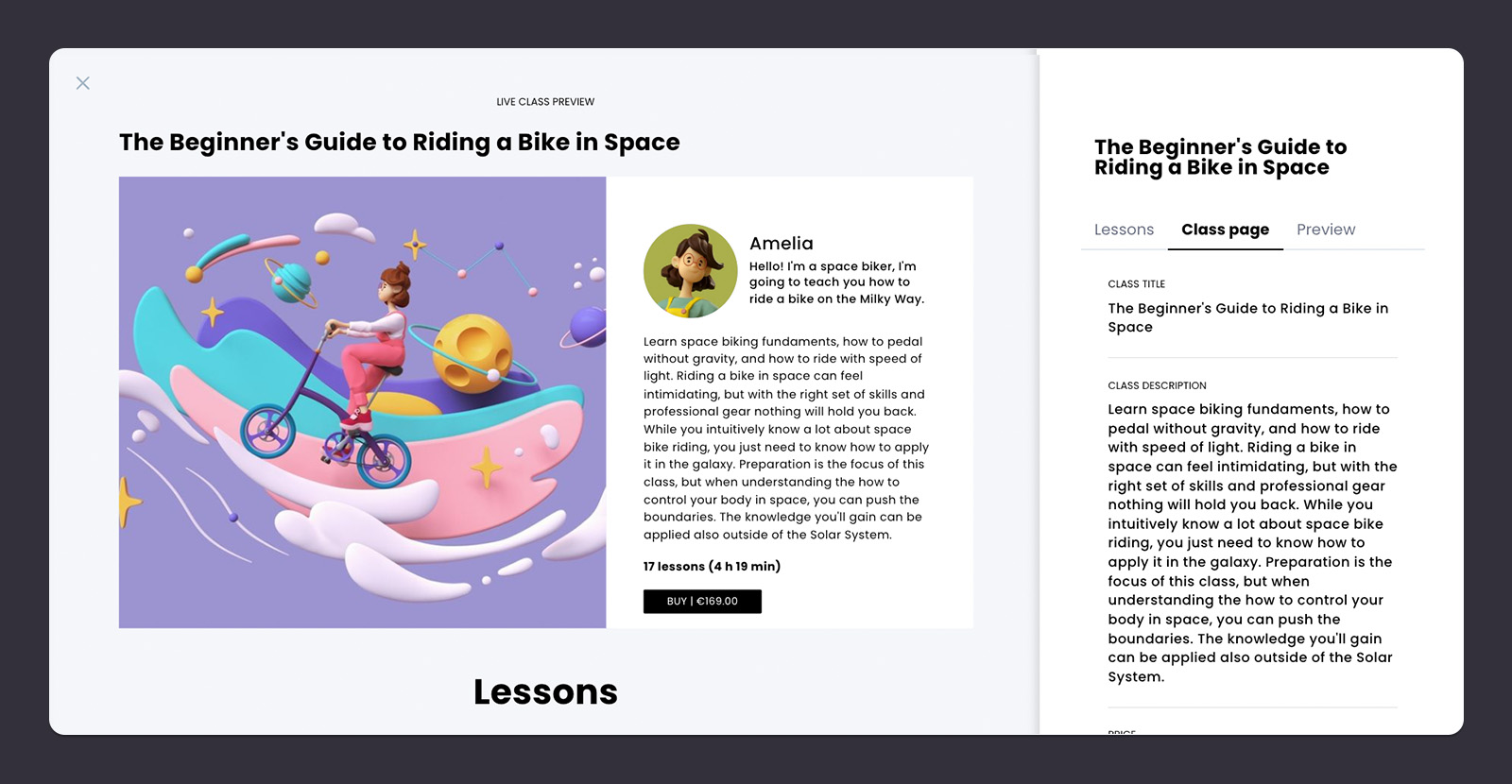 CreativeMindClass is a platform where you can sell digital downloads and offer online courses to your audience.
CreativeMindClass features:
CreativeMindClass provides a variety of features to help sellers sell digital products online. Some of the key features include:
Templates with pre-generated content
Website and landing pages hosting
CreativeMindClass pricing:
CreativeMindClass offers three pricing plans: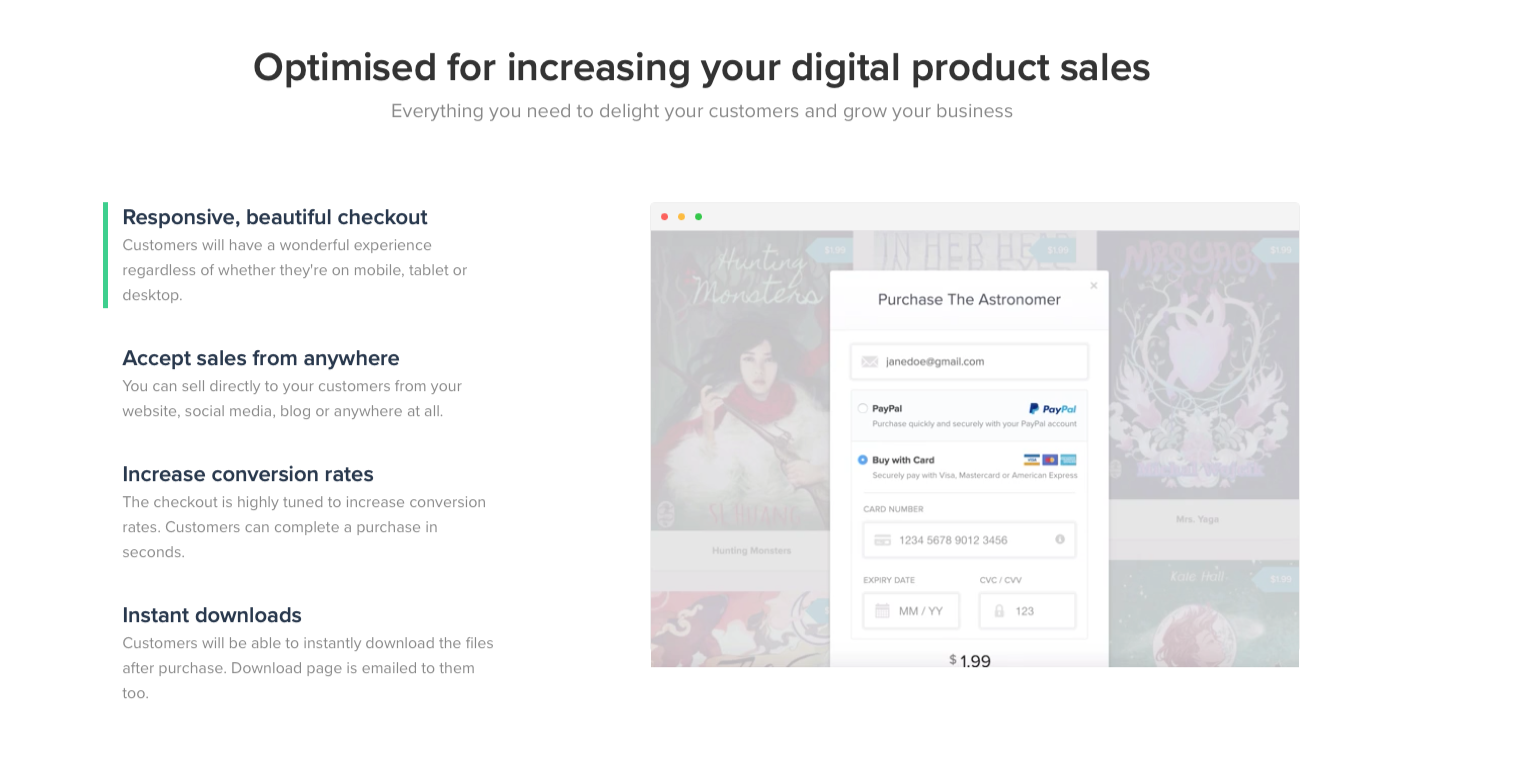 Payhip storebuilder allows users to sell digital products such as e-books, music, art, or software to their fans and followers. It provides tools for creating and customizing sales pages, managing payments and downloads, and tracking sales. Payhip charges a transaction fee depending on a plan.
Payhip features:
Some of the key features include:
Selection of 8 themes to customise
Custom domain name with a SSL certificate
Payhip benefits:
The storefront is available in multiple languages such as Dutch, French, German, Italian, and Japanese. A user can buy digital product using a simple checkout, use a discount code, and after the payment will be redirected to a download product page.
Payhip downsides:
Payhip sellers have the ability to add links to their own website or social media pages, where they can engage with customers and build a community. However Payhip does not have a built-in community feature.
You can log in to the website but the site isn't optimized for mobile devices.
Payhip pricing:
Payhip offers a Free plan, and two paid plans. The pricing for the paid plans varies depending on the number of products and sales volume, with higher volume plans offering a lower percentage transaction fee.
Free Forever - $0 per month + 5% transaction fee
Plus - $29 per month + 2% transaction fee
Pro - $99 per month  (no transaction fee)
Payhip fees:
On top of the monthly subscription and transaction fees, PayPal/Stripe will charge their regular transaction fee.
How will you get paid?
Payhip will deposit your sales to you soon after a transaction has been completed.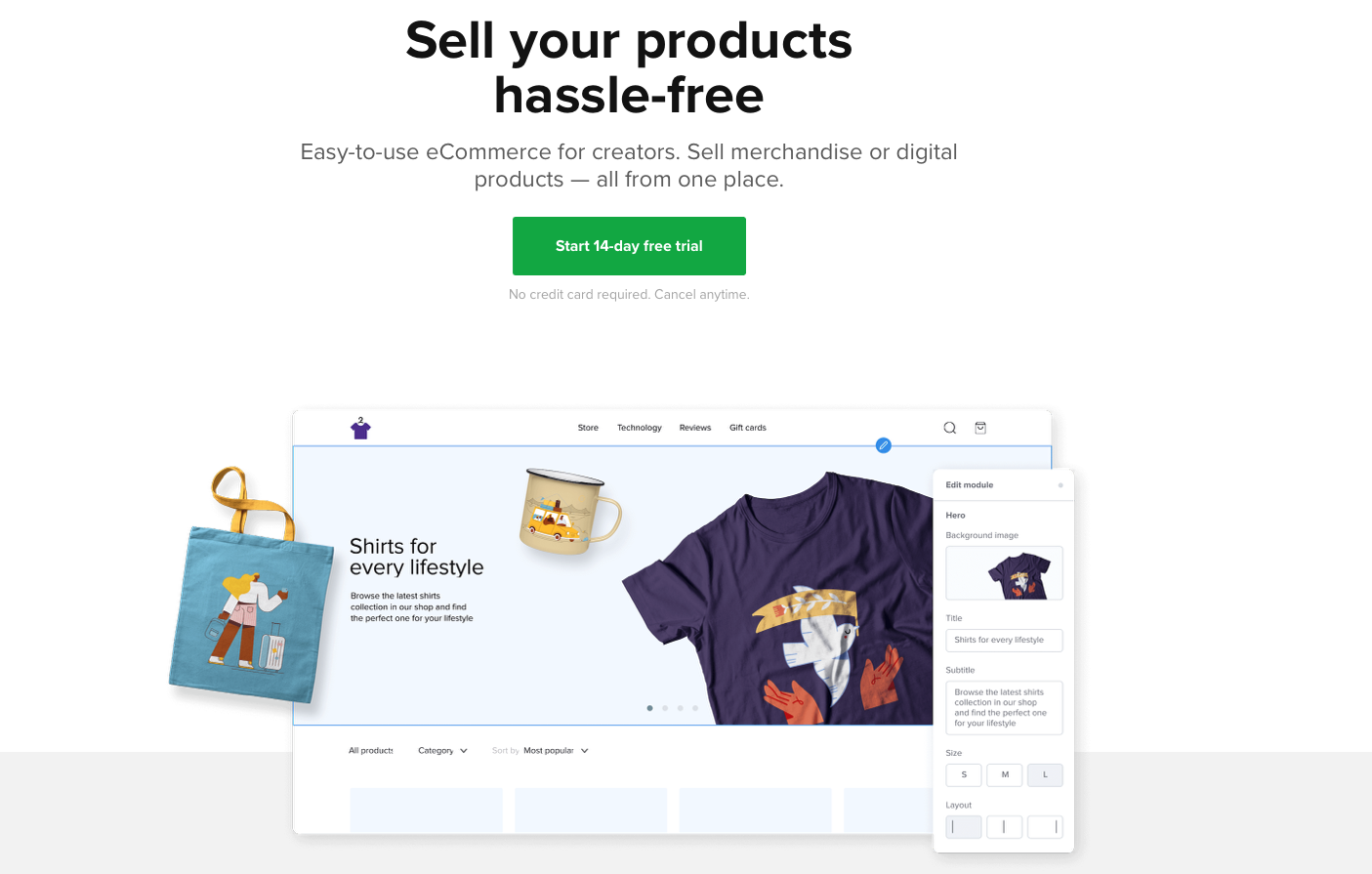 Sellfy is all-in-one e-commerce service designed for creators to sell digital digital subscriptions or print-on-demand merchandise online, ebooks, videos, audio & music, or any other files like PSD. 
A user can open a store, customise the front store and sell products to audience on social media or a website.
Sellfy features:
Self offers a range of features to help users sell digital products online. Some of the key features include:
Store hosting and payment processing
Landing pages with custom domain
Sellfy benefits:
They are flexible in plan selection. Also, Sellfy supports freebies, discounts and upsells.
Sellfy downsides:
The number of app integrations is very limited. Sellfy supports only two payment processors. Website customization capabilities are extremely restricted.
Sellfy pricing:
Sellfy offers a variety of pricing plans for users to choose from. You can try it out with a 14-day free trail. If you do exceed the limit for your current subscription plan, you will be expected to upgrade to the next subscription plan. With Sellfy, a user can select a plan that best suits their yearly transaction volume. Annual sales volume are up to $10k, $50k and $200k.
Sellfy fees:
Payment processing fees of PayPal or Stripe (typically 2.9% + 30¢) depending on which payment gateway you choose.
How will you get paid:
To receive payments from customers, you can integrate PayPal or Stripe.
Is Sellfy right for you? 
It is an easy to use product. It had great tools to check the progress of your business. However, it's not an optimal choice if you don't offer subscription plans.

SendOwl is an e-commerce platform that allows businesses to to sell digital goods online like audiobooks, e-books, photography, software, memberships, event tickets, or online courses. It connects with the payment provider so users can get paid and it automatically delivers the files to the buyers once payment has completed.
SendOwl features:
There are no transaction fees on Mover, Shaker, and Earthquaker plans.
Reports with buyer details and transaction amounts over any period
Email marketing integrations
SendOwl benefits:
You can use HTML, CSS, and JavaScript to customize fonts, design, and colors.
Also it's focussed on safety. A user can set a limit number of downloads to prevent unauthorized re-sharing or duplicates of products and supports 2-factor auth.
SendOwl downsides:
SendOwl offers a wide range of features to help businesses sell products and services online. However, like any platform, it also has some potential drawbacks or "disadvantages" to consider. For example it has no unlimited data storage on any plan.
SendOwl pricing:
SendOwl offer several pricing plans to suit the needs of different businesses. Their pricing plans typically include a free trial period and then the following options:
Free - 5% (min $0.50 cents) pre order management fee
Starter -$15 per month + $0.40 pre order management fee
Pro - $39 + $0.30 pre order management fee
Premium - $99 + $0.20 pre order management fee
SendOwl's pre order management fee:
SendOwl charges a pre order management fee depending on a plan. It refers to the additional fee that the platform charges on top of its monthly subscription fee for each order processed through the platform. 

Shopify is a commerce platform that enables you to create an online store and sell physical goods and digital products such as e-books, stock images, music, NFTs and software. Users can try it for free and set up a store using one of their free or paid templates. 
Shopify features:
Some of the main features include:
Website on MyShopify sub-domain. This domain works in the format: yourstorename.myshopify.com
Blogs, product pages, contact forms
Payments for buyers via credit or debt cards, PayPal, 
Built-in SEO optimization
Shopify benefits:
Shopify's website builder is user-friendly and easy to navigate, making it simple for digital product sellers to create and launch their online store quickly. 
Shopify customer service provides 24/7 support to help users with any issues they may encounter while using the platform, which can be beneficial for digital product sellers who need quick assistance.
Shopify downsides:
Some types of digital products such as membership sites or recurring subscriptions can require additional apps or custom development to work properly on Shopify.
Shopify pricing:
You can try Shopify free for three days. Shopify is a subscription-based and has several pricing plans that vary in terms of features and fees. The cost of using Shopify will depend on the plan you choose.
Shopify fees:
The fees for using Shopify include a monthly subscription fee, as well as transaction fees for certain payment processors.
Depending on the seller's needs, there may be additional costs such as domain name registration, custom development, and third-party apps.
How you get paid?
You can use Shopify Payments to receive payouts from credit card orders or other payment providers who have their own rules on payouts for credit card orders.
Is Shopify right for you?
Shopify is a popular choice for digital product sellers, as it offers a variety of features and tools to help them create and manage their online store. 
As it's great for selling physical goods, it's not optimal for selling digital products as it is limited in functionality and may require additional apps or custom development to work properly on Shopify.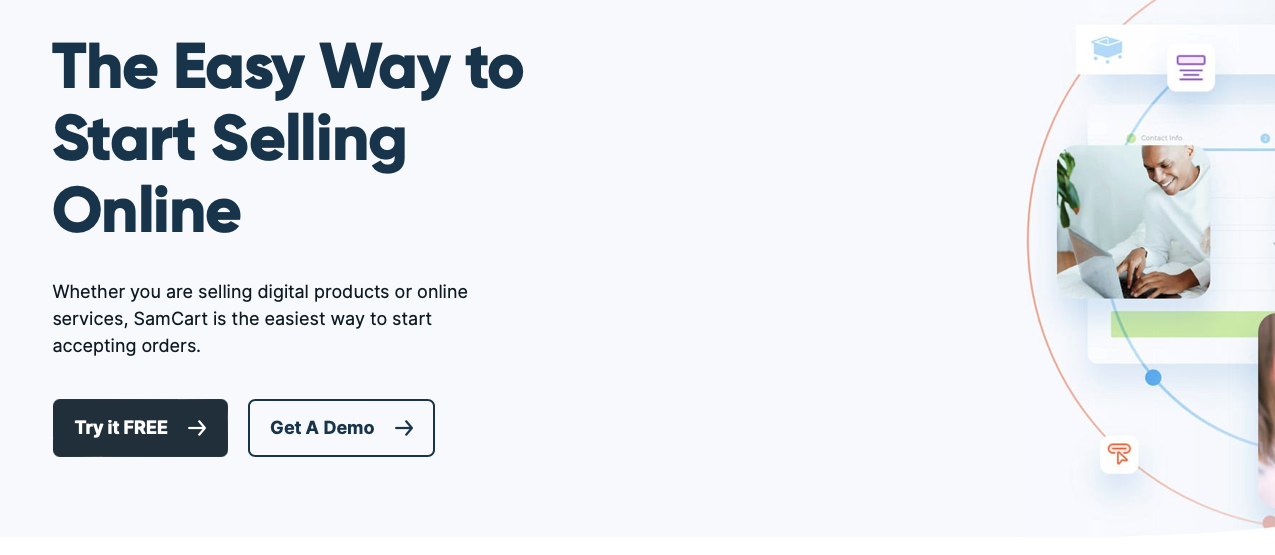 SamCart is a platform that allows users to create and launch their own online store to sell digital or physical products. In particular, the SamCart Courses app can be used to deliver digital downloads. 
Users can design and customize the look and feel of their checkout pages to match their brand.
SamCart features:
SamCart provides a variety of features to help businesses sell products and services online. Some of the features offered by SamCart include:
Landing pages, checkout pages and built-in payment processing 
SamCart benefits:
Users can track key metrics such as sales, conversions, and customer behavior to optimize their sales process. Also it's optimized for mobile devices, so customers can purchase from any device.
SamCart downsides:
SamCart's integration options may not integrate with all the tools that the user might be using.
SamCart pricing:
SamCart offers a 7-day free trial for all plans, so users can try out the platform before committing to a paid subscription. SamCart offers three pricing plans for its users:
SamCart fees:
There is no processing fee on Launch, Grow, and Scale plans.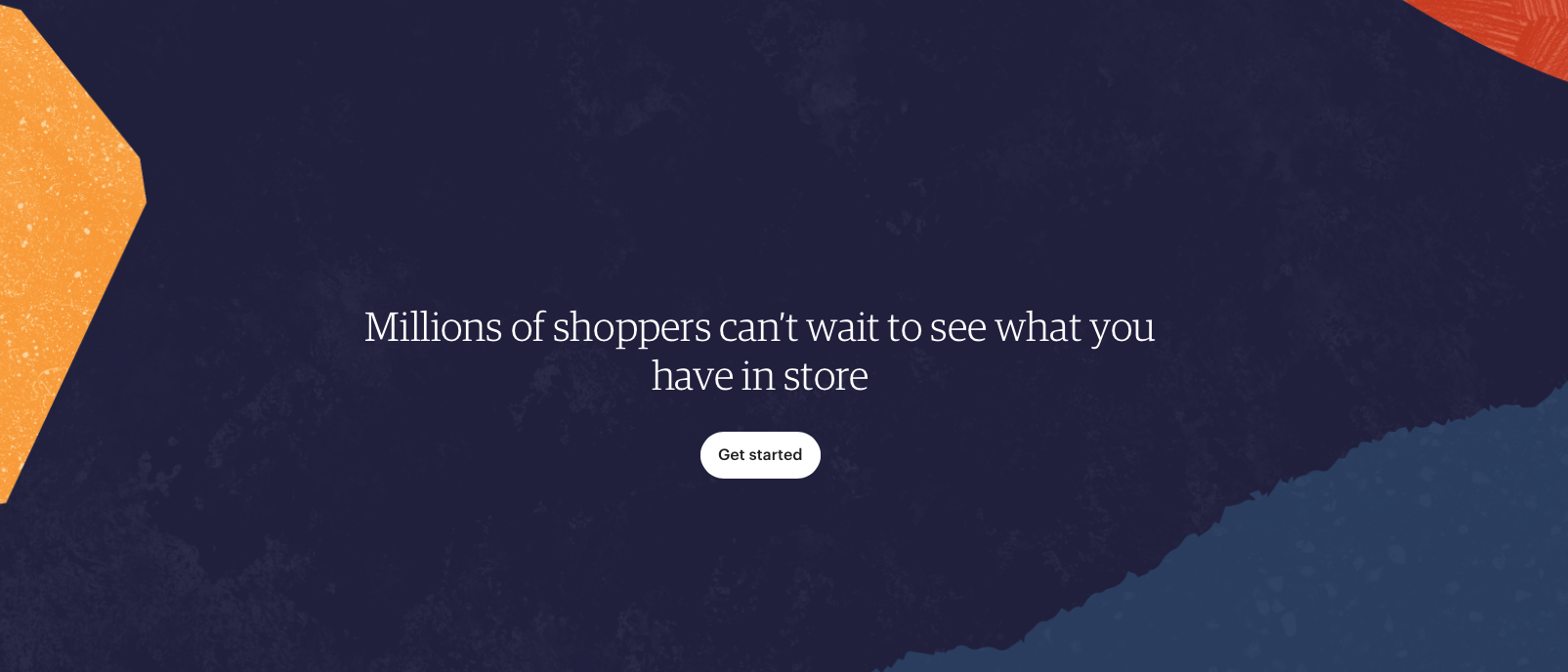 Etsy is an online marketplace that allows you to set up your own shop and sell physical goods such as handmade, vintage and unique items, as well as digital downloads. 
You can set up a store homepage for free and customise it by creating a banner, uploading a shop icon and showcasing products. 
For example, Maia Fadd is an Etsy shop that sells digital illustrated goods, stickers, and handmade jewellery. The shop is owned by Maia Faddoul, a Canadian artist — an online course creator, digital illustrator and a designer — who today has more than 2.5k sold items and a 4.8 stars in review rating.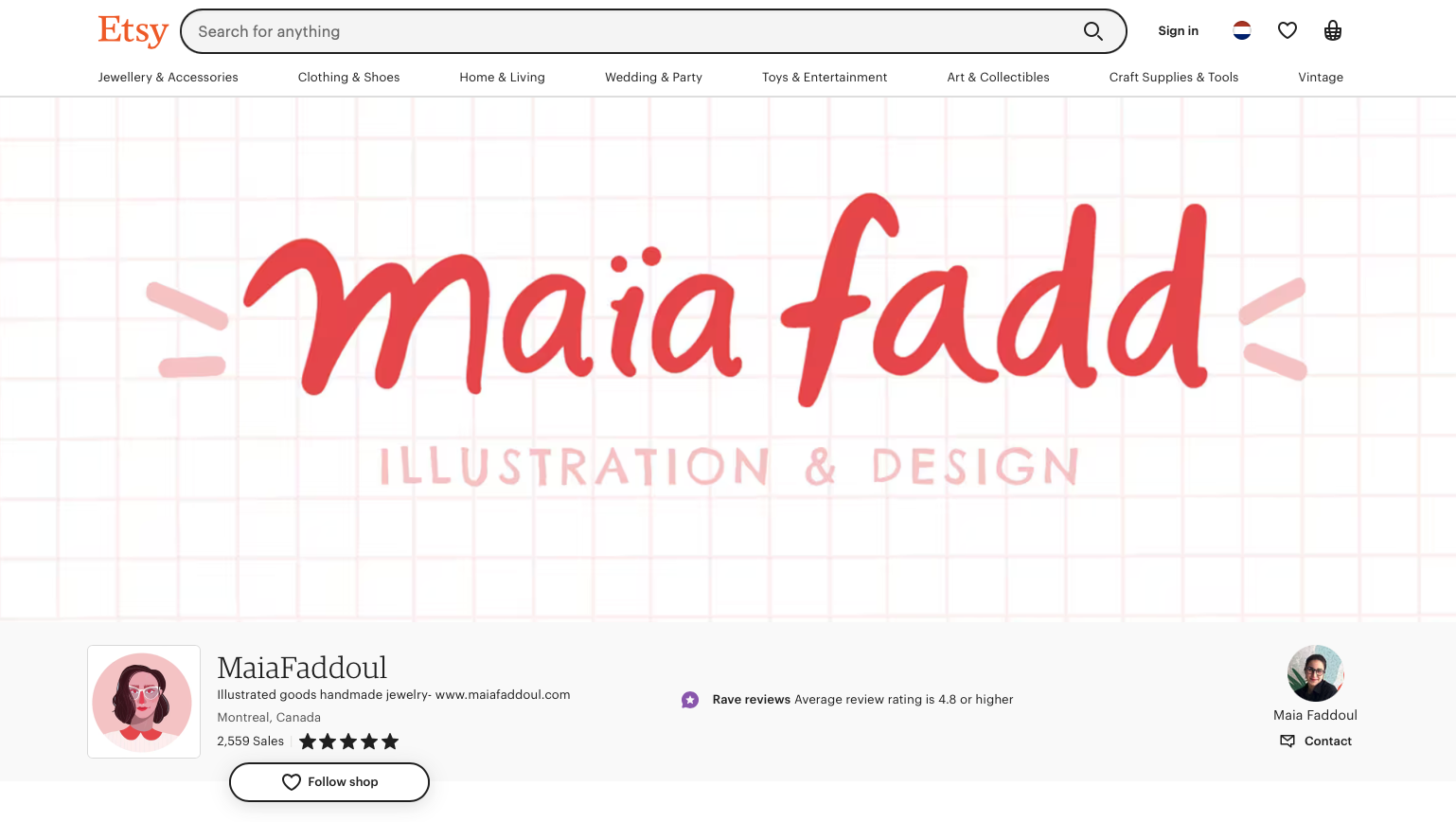 Etsy features:
Etsy offers a variety of tools and resources to help sellers successfully sell their items on the platform. These include:
Payment processing for sellers, which includes accepting credit and debit card payments, as well as PayPal payments.
A global marketplace with paid advertising and coupons, as well as the analytics tool to track shop's performance
Messages and thank you notes to buyers
Etsy benefits:
It's a market place which gives an access to large audience. It's a well-known, and easy to use tool with well-developed support pages.
Etsy downsides:
As any market place it encourages paid advertisements to succeed.
It's not for selling services, courses and building a community.
Although Etsy is as a place for handmade and unique items, it doesn't encourage this value - due to a marketplace competition, creators might be forced to lower the prices and create popular products that are "selling well".
How much Etsy costs?
Joining and starting a shop on Etsy is free. There are three selling fees: a listing fee, a transaction fee, and a payment processing fee. There's also an advertising fee for sales that come from Offsite Ads.
€0.18 to list a product until it sells or for four months + 6.5 % transaction fee, 4% + €0.30 payment processing fee
How does Etsy pay you?
Funds from your sales are deposited directly to your bank account in your currency, no matter how or from where the buyer pays.
Is Etsy right for you?
Etsy offers a variety of tools and resources to help sellers, including a global marketplace, paid advertising and coupons, and analytics to track shop performance.
However, it's not suitable for selling services, courses and building a community. As with any marketplace, there is a competition and this may encourage sellers to lower prices and create popular products.
Find the right Thinkific alternative for you

CreativeMindClass: A One-Stop-Shop for Online Course creators 
CreativeMindClass is a platform that has all the features you need to create and sell online courses and build a community for your audience. It's perfect for authors, coaches, creatives, and content creators. The platform is easy to set up, and you don't need any coding skills or app integrations. All you need to do is fill in your copy, upload your online course, set a price, and start selling.
One of the standout features of CreativeMindClass is that it offers a fully functional website with payment connections for free. You can sell video courses, PDFs, eBooks, native files, and audiobooks, and you never have to pay a subscription fee. You can also keep your audience up to date with posts on your activity feed.
The platform's online course features are extensive. You can sell video lessons with downloadable files, receive files from your learners for feedback, and build a community around your courses. You can protect access to your products with a password, and reach a global audience with multiple currencies and automatic VAT for EU customers.
CreativeMindClass best features:
Quickest to set up: a website with pre-filled content and ready to go layout
Fully functional website with unlimited landing pages
Great user experience with continuity
No app integration needed; paid or free
Best alternative to Thinkific: CreativeMindClass
CreativeMindClass has a selection of templates for you to build a new website or create a product page that you can link to your own website with a custom URL. The ready-to-go website layout is optimized for sales, so you don't have to worry about margins, columns, or fonts.
The platform also has a built-in payment system and 'buy' button, making checkout simple and secure for your audience. In conclusion, if you're looking for a platform to sell your digital products or offer online courses, CreativeMindClass is a great option with all the features you need in one place.
Get started for free with CreativeMindClass. No credit card required.
Thinkific alternatives FAQs
What is better than Thinkific?
CreativeMindClass
Circle
Sellfy
SendOwl
Shopify
SamCart
Etsy
Who should use Thinkfic?
You should use Thinkfic if you already have an online community and want to sell them online courses. 
Who should use Thinkfic?
You should use Thinkfic if you already have an online community and want to sell them online courses. 
Do you own your content on Mighty Networks?
Get your free CreativeMindClass account
Join creators who use CreativeMindClass to sell online courses, create websites and build communities.
CreativeMindClass
CreativeMindClass is an ever-growing community of creators, teachers, and students alike, who join each other on the online course platform to create, teach, learn, connect and inspire.