Mighty Networks Alternatives to Fuel Your Online Community Growth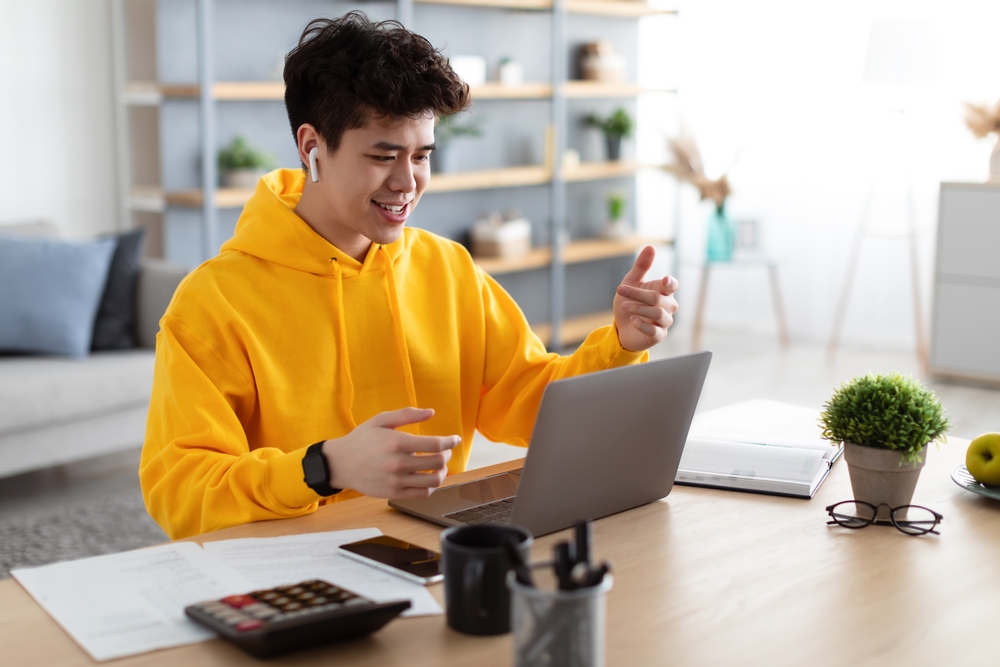 Growing an online community from small to large scale is exciting, but also comes with new challenges. Operating big community can put new strain on your existing technology.
To run an large community—and continue to see growth—you need the right technology for the job. You need an community platform that can handle your number of visitors with flawless performance, even during high-traffic times. You need it to expand to serve new geographies and channels where customers are waiting to discover your products. You need it to integrate with the solutions your large or small business requires to fuel growth.
If you're currently on Mighty Networks or considering it for your online business, here's a little more information about the platform and several Mighty Networks competitors to consider.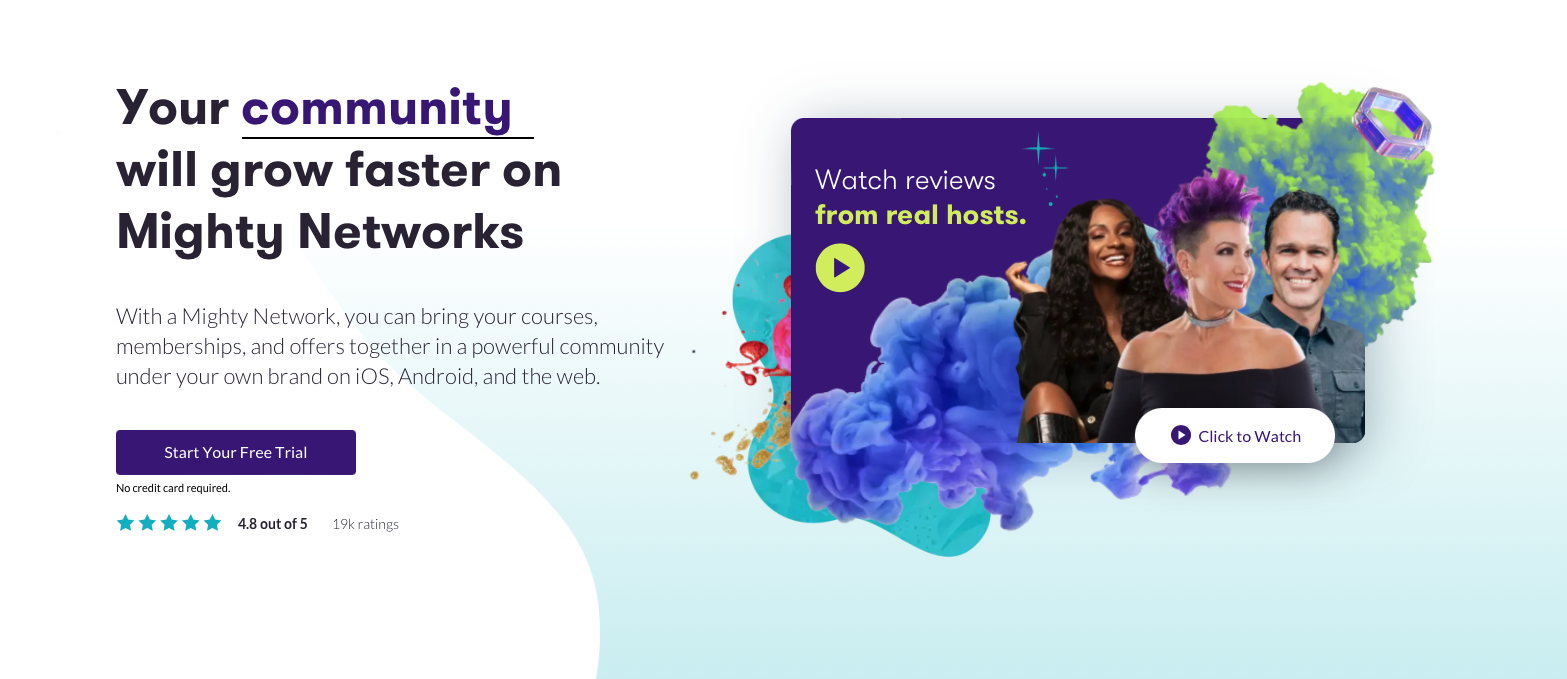 What is Mighty Networks: a brief introduction
Mighty Networks is an online community platform with over 10.000 paying customers. The company was founded in 2017 and is headquartered in Palo Alto, California, USA. In April 2021, the firm announced US$50 million in new funding to accelerate growth.
As an online community platform, MightyNetworks provides access to the community software for an ongoing fee. The product is offered at different tiers and price points within that fee.
Mighty Networks serves the needs of small and lower mid-market businesses with Community, Business, and Pro Plans. Mighty Networks Pro offers more advanced features and is aimed at brand owners. Its pricing is based on the revenue of the company.
Reasons to look for Mighty Networks alternative
Mighty Networks has a set of templates and design options, which might not be enough for users who want a more unique and custom look for their online community.
Mighty Networks can be more expensive than other options, especially for users with a large audience or high volume of content.
Mighty Networks is a popular platform for communities, but it's not the only option out there. If you're looking for a platform that better fits your specific needs and requirements, you may want to explore some of the best Mighty Networks alternatives.
We'll highlight 7 of the top platforms for creating and running communities, including their features, benefits, and drawbacks. Whether you're a creator, online course instructor, or a coach this article will provide valuable insights and help you make an informed decision about the best platform for your business.
So, let's dive in and discover the 7 best Mighty Networks alternatives.
7 alternatives to Mighty Networks
If you're considering Mighty Networks for your community platform, here are a few Mighty Networks alternatives to consider.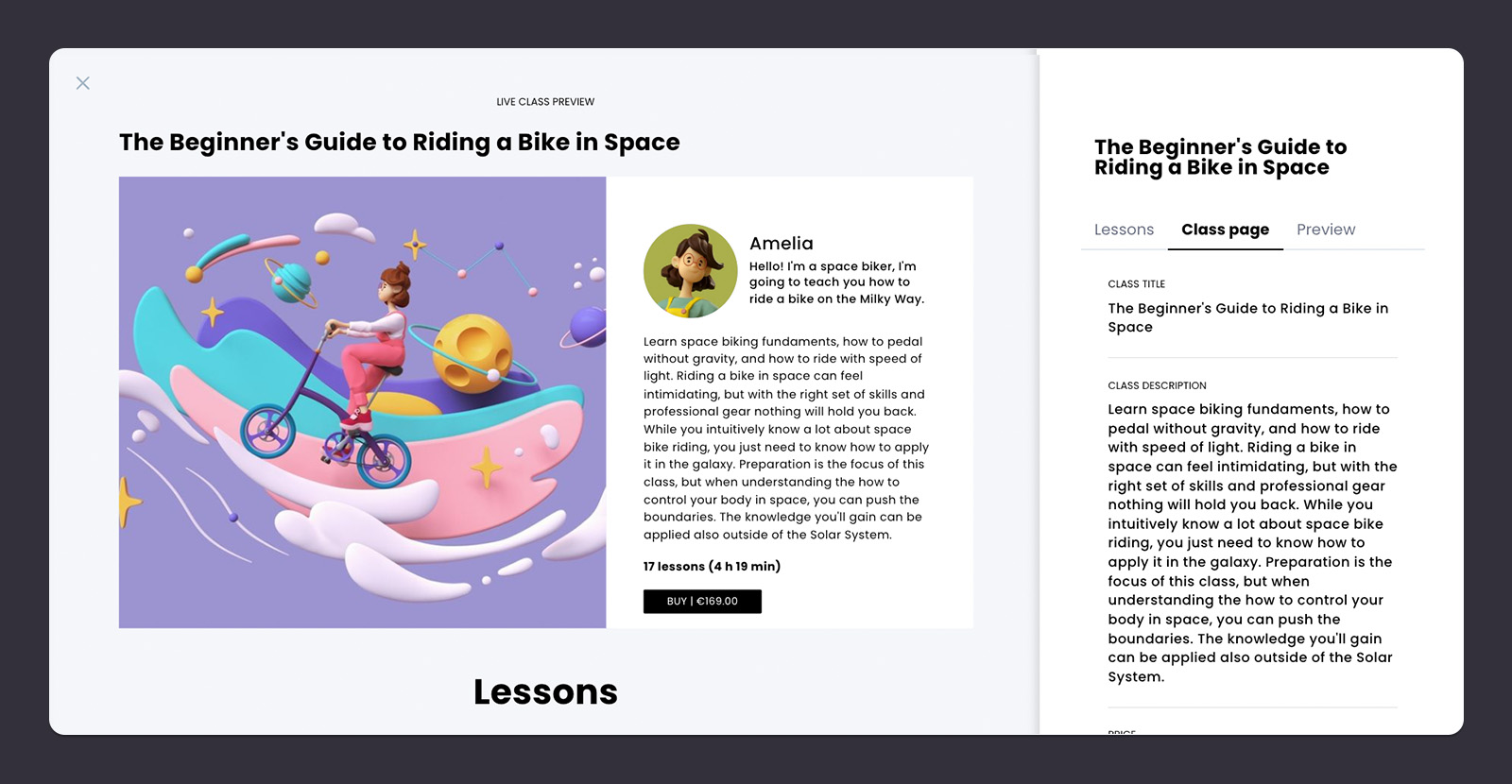 It's a platform where you can build a community, but also sell digital downloads and offer online courses to your audience. It provides a variety of top-notch features for creators to engage their community in fun activities and stick around for longer. 
CreativeMindClass features:
Some of the key features include:
All-in-one community with posts, comments and feedback
Website and landing pages hosting community
Ready to go templates with content
Integrated payments and check out page
CreativeMindClass pricing:
CreativeMindClass offers three pricing plans: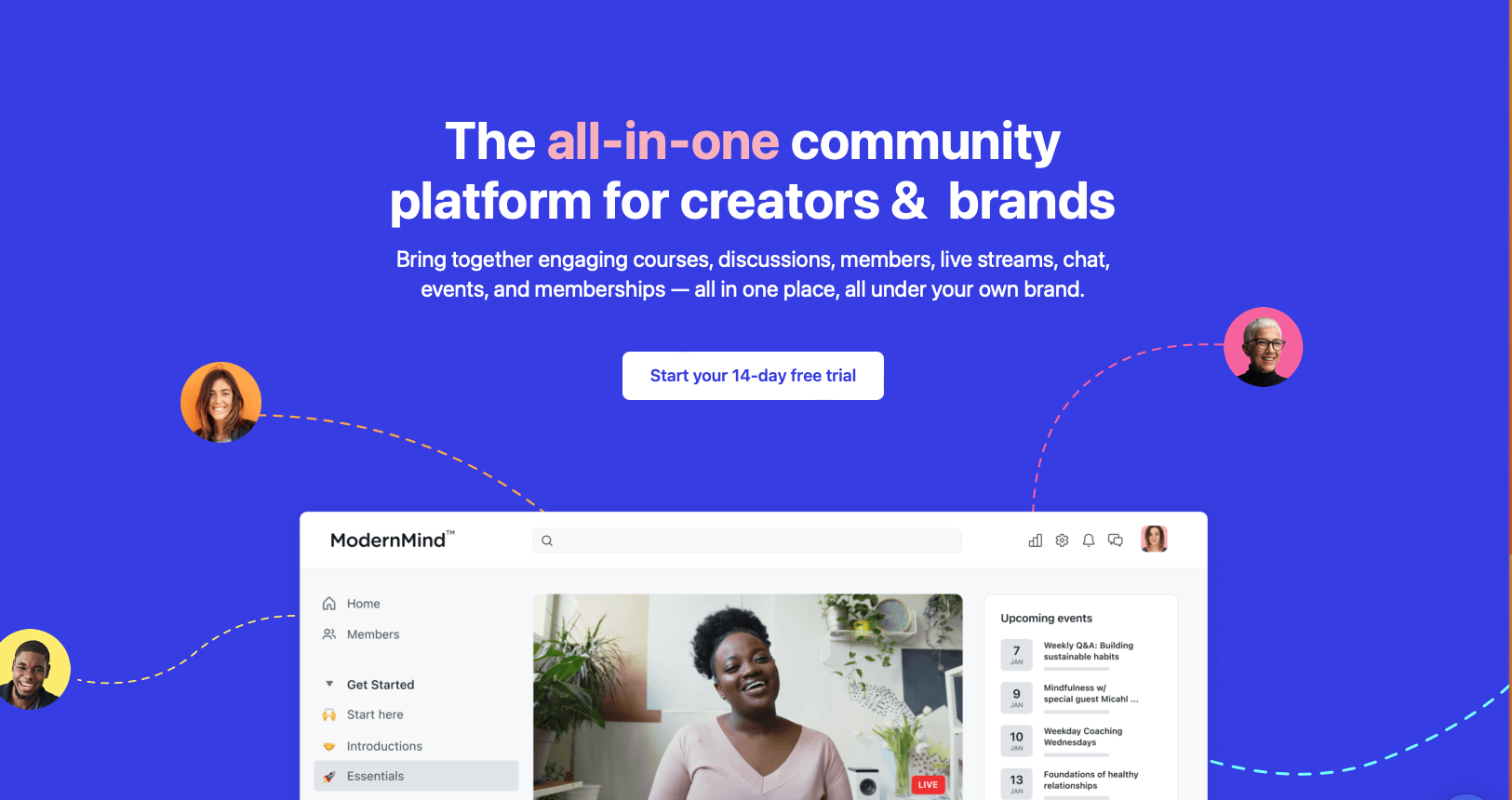 Circle is a powerful Mighty Networks alternative that has everything you need to create a thriving online community. As far as online community features go, Circle has tools to let you organise discussions, create posts, livestream and sent private messages. It also creates an add-on to your site.
Circle features:
Some of the key features include:
Interactive courses, live streams, group chats, & events
Memberships and subscriptions
Circle benefits:
With features such as analytics and insights, Circle provides users with tools to better understand their audience and improve engagement with their network.
Circle downsides:
As Circle is a relatively new platform, it may have a smaller user base compared to more established social media networks, which can limit its usefulness for some users.
Circle pricing:
Circle and Mighty Networks pricing is similar. They both don't offer a free plan, however every paid plans comes with a 14-day free trial. Circle offers three paid plans with additional transaction fees depending on the plan:
Basic - $39 per month + 4% fees
Professional - $89 per month + 1% fees
Enterprise - $360 per month + 0.5% fees
Circle fees:
On top of the monthly subscription and transaction fees, Stripe will charge their regular fees.
Circle vs. Mighty Networks comparison: what are the big differences?
Circle offers more advanced features. So if you're building a complex community, Circle is a better choice.
Unlike Circle, Mighty Networks doesn't offer a buy button feature you can add to your site.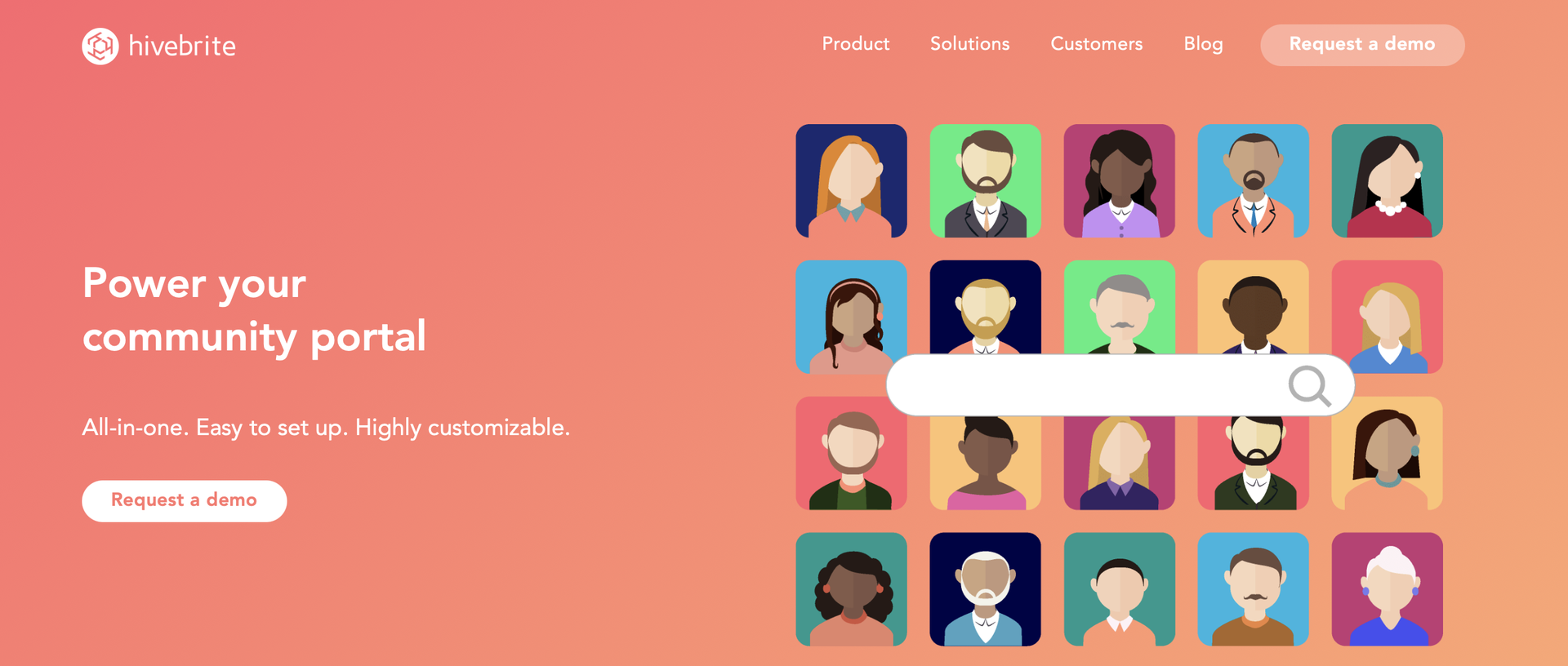 Hivebrite is highly customizable Mighty Networks alternative. The platform caters large businesses and enterprises with complex needs, to it's often so it's often a platform you graduate to rather than launch with.
Some Hivebrite's top features include:
Hivebrite benefits:
One of the most professional solutions for community on the market allows you to keep things well organised on the large scale. 
Hiverbrite downsides:
Unlike Circle, Hiverbrite is not good for community building with subscriptions and paid memberships.
Hivebrite pricing:
It's an enterprise solution so there are no pricing plans, you can contact Hivebrite sales to request a demo.
Hivebrite vs. Mighty Networks comparison: what are the big differences?
With Circle you can create an online community with paid access, Hiverbrite is an internal, enterprise tool for managers.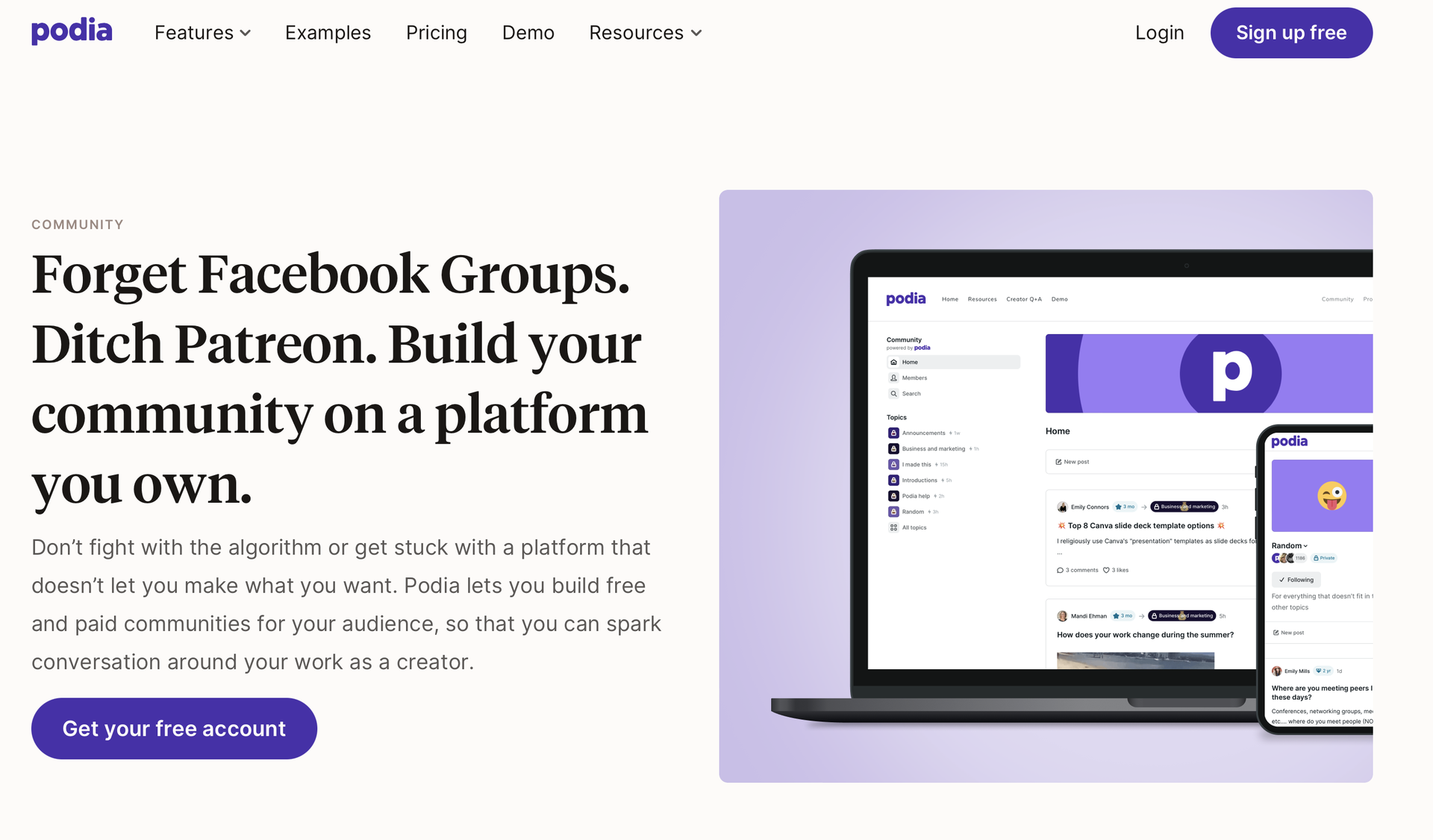 Podia is a beginner-friendly Mighty Networks alternative with customisable templates for building website. Like Mighty Networks, Podia doesn't require any coding to build your online course. Other valuable feature includes adding digital downloads like books, or digital prints.
Podia benefits:
Podia offers an intuitive and user-friendly interface, making it easy for creators to set up their online courses, products, and membership sites without coding skills. The platform provides a good user experience for both creators and customers.
Podia downsides:
As it doesn't require any coding skills it comes with limitations. You can't embed custom codes on sales page.
Podia pricing:
Podia offers a free plan and two paid plans without any transaction fees.
Podia vs. Mighty Networks comparison: what are the big differences?
Unlike on Mighty Networks, Podia has a free plan which is a big advantage for beginners.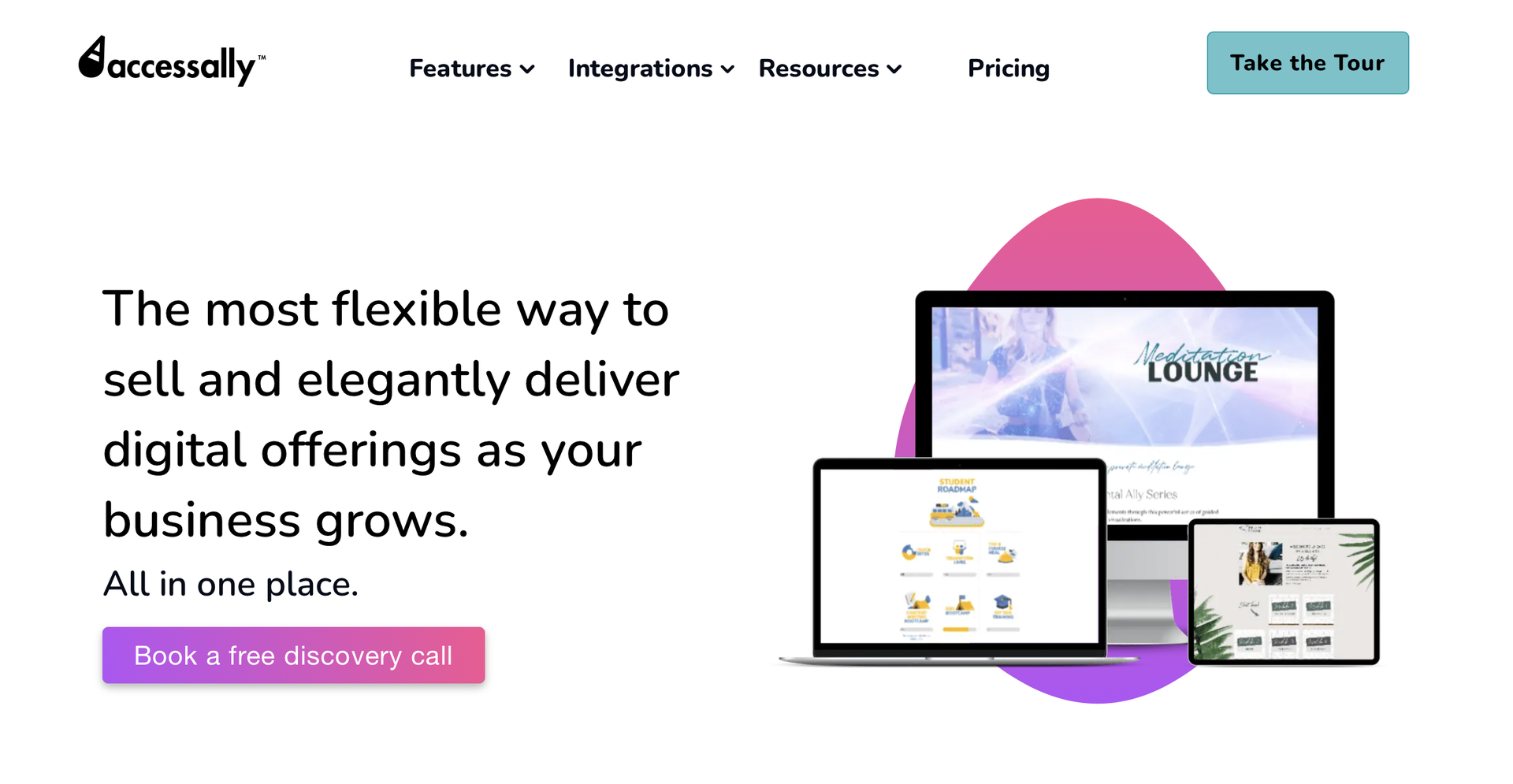 Accessibly is a Wordpress plug-in you can add to your site plug-in to site to add community functionality. The platform caters specifically to coaches, trainers, and creators. You can use AccessAlly's online course features together with group coaching and memberships. 
AccessAlly features:
Top features include forums, courses, downloads and group training.
AccessAlly benefits:
One benefit of AccessAlly is that you can use the build-in payment gateway integration (Stripe and Paypal).
AccessAlly downsides:
But downside is it gets complicated when you want to scale your business as there are no built-in integration for taxes and VAT in EU for digital services. 
AccessAlly pricing:
You can't try AccessAlly free. AccessAlly is a subscription-based plug-in and has several pricing plans that vary in terms of features and fees. The cost of using AccessAlly will depend on the plan you choose.
AccesAlly fees:
AccessAlly doesn't charge transaction fees, but keep in mind that Stripe and PayPal charges a small payment fee for each transaction.  
Is AccessAlly right for you?
If you already have a Wordpress website that you are happy with AccessAlly is a good choice for you. Creators and bloggers with in particular would benefit from using this plugin to start online community. 
AccessAlly vs. Mighty Networks comparison: what are the big differences?
Mighty Networks is more affordable than managing a WordPress site with an AccessAlly plug-in. Its fees are generally lower. Plus, Accessibly may require more investments in tax and VAT solutions as you scale up your business.
Mighty Networks offer more advanced features. So if you're building a complex online community, Mighty Networks is a better choice.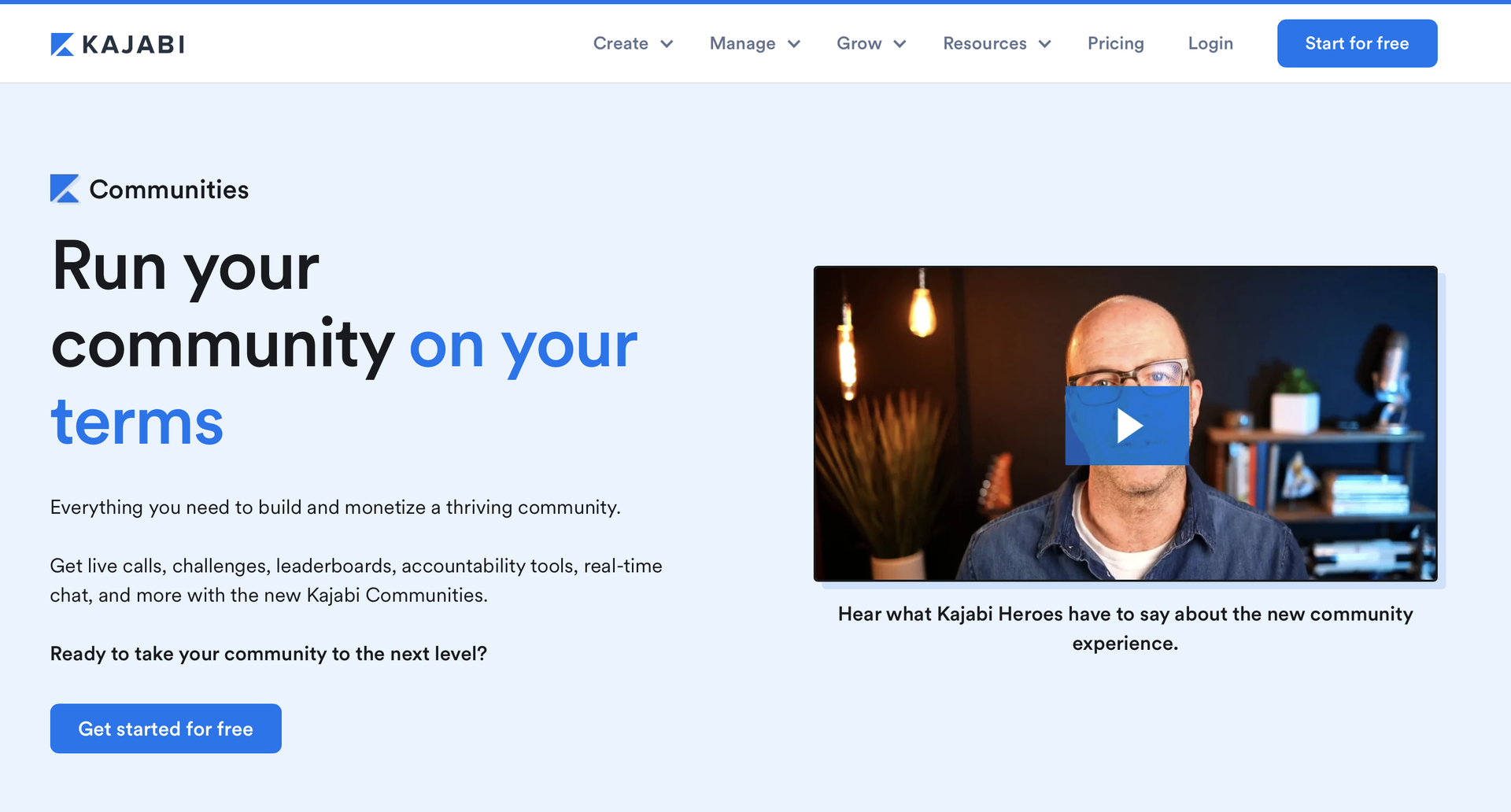 Kajabi is a platform that allows users to create and launch their own online store to sell digital or physical products. In particular, the Kajabi app can be used to deliver online courses. 
Users can design and customize the look and feel of their checkout pages to match their brand.
Online courses, digital products
Kajabi benefits:
Kajabi is a good all-in-One Solution. It provides all the tools needed to run an online business in a single platform, eliminating the need for multiple third-party tools. Its intuitive interface allows easy course creation, website customization, and marketing without requiring technical skills.
Kajabi downsides:
By using Kajabi as an all-in-one solution, you become dependent on the platform for various aspects of your online business. If Kajabi experiences technical issues or changes its offerings, it may affect your business operations.
Kajabi pricing:
Kajabi is a premium platform and can be relatively expensive compared to other options. The pricing plans is not beginner-friendly and for those on a tight budget.
Kajabi fees:
There is no processing fees on any Kajbi plan.
Kajabi vs. Mighty Networks comparison: what are the big differences?
While Mighty Networks is a community focused platform, Kajabi is build around online courses and community is one of the features it offers. So if community is your priority, choose Mighty Networks.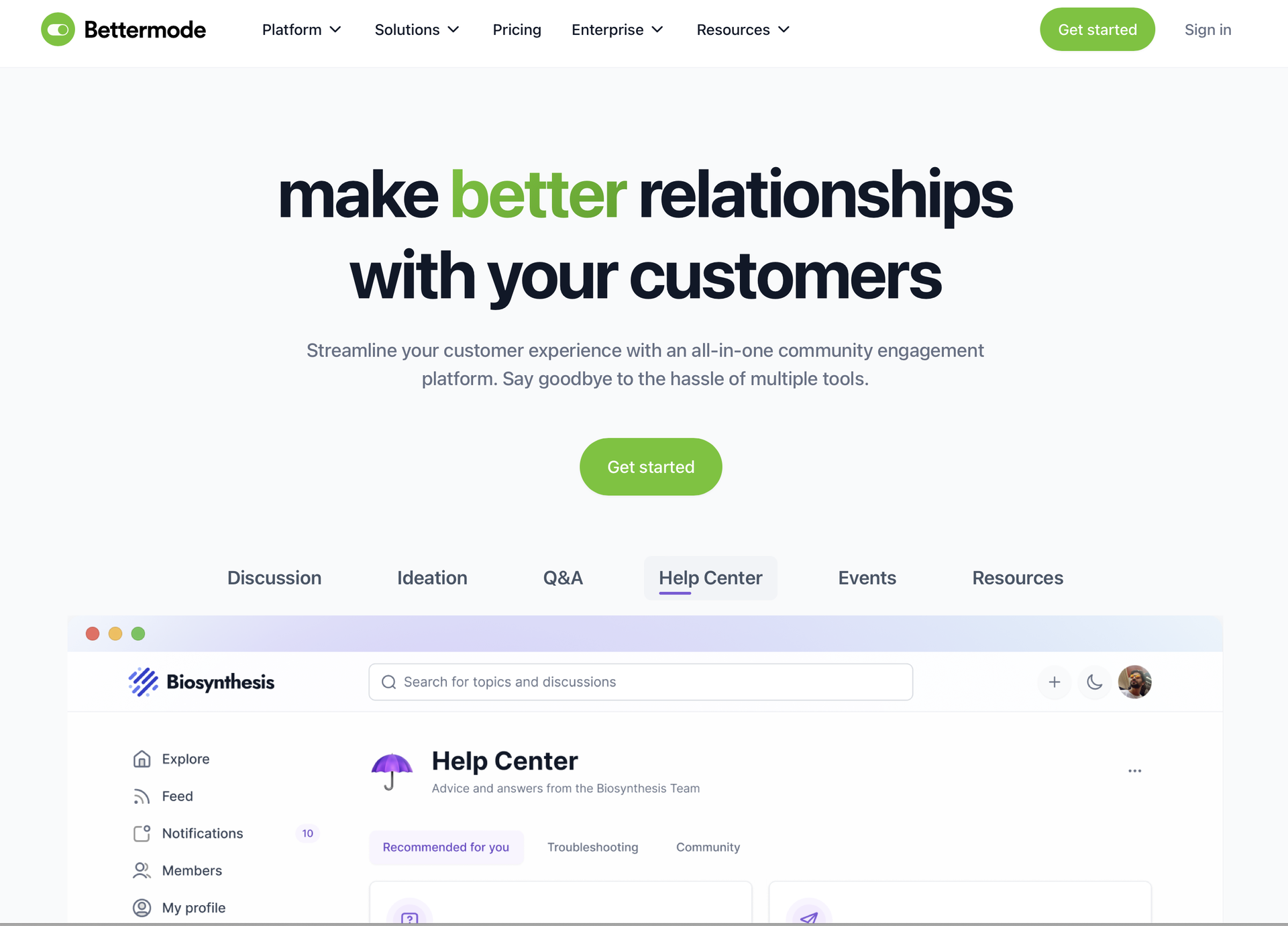 Bettermode (formerly Tribe) is a powerful Mighty Networks alternative that has everything you need to run a massive online community. The platform offers tools for customer support, education and discussions. Users often say that Bettermode is more of a business solution while Mighty Networks is better for creators. 
Onboarding, content resources, events, and continued engagement.
Tools to improve user experience
Building blocks for layouts
Bettermode benefits:
Some of the Bettermode's top benefit is that it integrates with a wide range of industry-leading software, like Slack and Intercom.
Bettermode downsides:
Unlike Mighty Networks, Bettermode doesn't offer a mobile app to download so you can miss a notification. 
How much Bettermode costs?
Bettermode is a community tool catering to businesses. The platform comes with two pricing plans for companies: Advanced for $599 a month and a custome Enterprise plan.
Bettermode vs. Mighty Networks comparison: what are the big differences?
Unlike Bettermode, Mighty Networks isn't super flexible and customisable. This makes it simpler if you're handling the website yourself, but can be limiting, especially as your business grows in complexity.
Bettermode is similarly to Hivebrite a business solution so it's not beginner-friendly.
Find the right Mighty Networks alternative for you

CreativeMindClass: A One-Stop-Shop for Community Building and Online Course Instructors
CreativeMindClass is a platform that has all the features you need to sell digital products and offer online courses to your audience. It's perfect for authors, coaches, creatives, and content creators. The platform is easy to set up, and you don't need any coding skills or app integrations. All you need to do is fill in your copy, upload your product, set a price, and start selling.
One of the standout features of CreativeMindClass is that it offers a fully functional website with payment connections for free. You can sell PDFs, eBooks, native files, videos, and audiobooks, and you never have to pay a subscription fee. You can also keep your audience up to date with posts on your activity feed.
The platform's online course features are extensive. You can sell video lessons with downloadable files, receive files from your learners for feedback, and build a community around your courses. You can protect access to your products with a password, and reach a global audience with multiple currencies and automatic VAT for EU customers.
CreativeMindClass features:
Quickest to set up: a website with pre-filled content and ready to go layout
Fully functional website with unlimited landing pages 
Great user experience with continuity
No app integration needed; paid or free
CreativeMindClass is the best Mighty Networks alternative

Ultimately, you want to choose an online course platform that suits your business now and can grow with you. Mighty Networks might be a great platform for non-commerce sites, but it limited in terms of supporting business growth.
With an online course platform like CreativeMindClass, you get a full suite of tool with everything you need to run your online course and community business now and well into the future. 
Ready to launch your online course? Start for free on CreativeMindClass—no credit card required.
Mighty Networks alternatives FAQs
What is better than Mighty Networks?
The seven community platforms listed in this post are better than Mighty Networks for your business:
CreativeMindClass
Circle
Hivebrite
Podia
Access Ally
Kajabi
Bettermode
Who should use Mighty Networks?
You should use Mighty Networks if you already have an online community and want to sell them online courses. 
Do you own your content on Mighty Networks?
Get your free CreativeMindClass account today!
Try CreativeMindClass for free, no credit card required.
CreativeMindClass
CreativeMindClass is an ever-growing community of creators, teachers, and students alike, who join each other on the online course platform to create, teach, learn, connect and inspire.